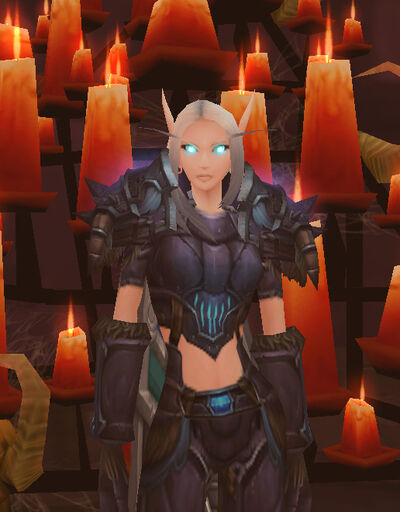 Basic Information
Edit
(Translation: from Sindarin Duath - Doomed; Elin - Star; Gyrth - dead person; Al - negative form/not/un-)
Birthday: January 3, 155 years before the opening of the Dark Portal.
Race: Undead Blood Elf
Class: Death Knight
Gender: Female
Age: 175 (equivalent to around 35 human years)
Origin: Before killed in the Third War she lived west of what is now called the Western Sanctum
Professions: mining, skinning
Occupation: Knight of the Ebon Blade
Languages: Thalassian, Common
Physical Description
Edit
Gender: Female
Height: 5'9"
Weight: 116
Hair Color: White
Eye Color: Glowing Blue
Skin Color: Pale
Personality
Edit
Pet Peeves
Edit
((adding it later))
Phobias and Weaknesses
Edit
((adding it later))
((adding it later))
Favorites
Edit
Hour:
Event:
Furniture:
Liquid:
Stone:
Tree:
Flower:
Color: Blue
Animal:
Book:
Food:
Place:
Worst Place:
Verb:
Expression:
Month:
Number:
Season:
Weather:
Passion:
Sound:
Clothes:
Body part:
Smell:
Day of the week:
Weapon:
Enchant:
Engineering invention:
Quest:
Mount:
Faction:
Race:
Worst race:
Class:
Nemesis:
Creature:
Worst creature:
Non combat pet:
Physical features in a partner:
Ideal partner:
Skills: ((adding it later))
Combat Tactics: ((adding it later))
Special Possessions: ((adding it later))
Loyalties: ((adding it later))
---
Fara's Links
Edit
Main Screenshots password:wowshots
RP Screenshots password:wowshots
Ad blocker interference detected!
Wikia is a free-to-use site that makes money from advertising. We have a modified experience for viewers using ad blockers

Wikia is not accessible if you've made further modifications. Remove the custom ad blocker rule(s) and the page will load as expected.